QRS Pianomation music CD for sale
Midi files for piano





PLAYER PIANO SYSTEM INSTALLATION OR UPGRADE

We can transform your existing piano to the player piano!


How about...

...your favorite artist playing or singing just for you and your friends right along with your piano as it plays!




Song: Unforgettable (player piano with optional colorful strobe lights)




Imagine every song you listen to being played live in your own home with a press of a button. You can even play the piano along with your favorite songs if you want to. Control it all with any of your musical devices, it's as simple as pressing play and pause. The QRS PNOMation3 player can be installed almost into any piano and it won't even be visible. It is the perfect entertainment for any mood or occasion. You can even practice, record, and playback songs with headphones. Don't dream about it anymore! Install the QRS PNOMation3 player and enjoy the show!




QRS player piano intro








PNOmation3 PLAYBACK FEATURES:




Thousands of tracks of different genres to choose from

Plays standard MIDI, MP3s, and QRS SyncAlong MP3s

Presorted tracks by color and genre for Solo, Concert and SyncAlong series

Custom playlists

Multiple Schedules of ON and OFF and playlists

Key and pedal minimum playback set points and alignments

Trill alignments

Auto volume controls

Performance piano vs. background adjustment curves match your piano's volume curves to your speakers

MIDI playback from MIDI IN using 5 pin din, USB, Thumb stick, internal MIDI, CF, recorded MIDI, or network

Sort by Album, Genre, Playlists, Artist, Played by Artist, Type (solo piano or piano with background)

Shuffle, repeat, mark

Tempo and Transpose, Volume, playback MIDI features

Any Wi-Fi enabled device can access

Start-Stop from the piano, Remote, or Wi-Fi device

Content is on the piano, not in the cloud and not on your device

Karaoke

Aux input and MIDI input allow for SyncAlong DVD playback

Forward compatible with HD MIDI

Use of tablets to playback from third party programs

QRS YouTube channel with performance and Karaoke playback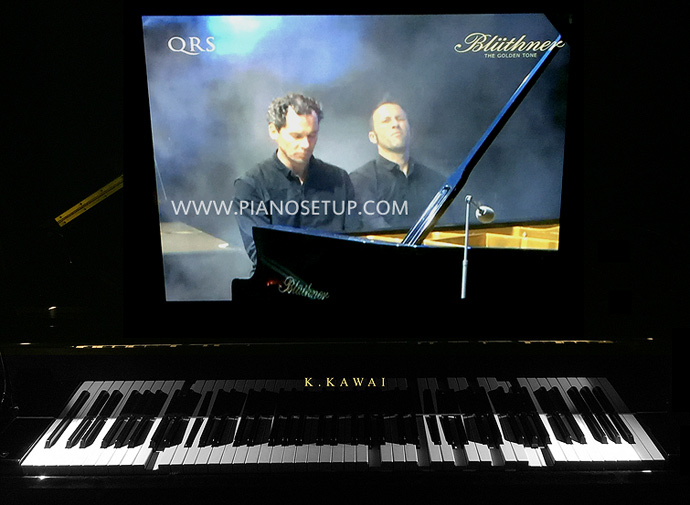 OVER 100 YEARS QRS HISTORY



QRS has been creating Player Piano systems for over 116 years, making new models constantly to keep up with today's technology and possibilities. Since 1900 all kinds of great artists have been recording for QRS. With 5,000 master recordings and 45,000 music rolls containing the best music from the 20th century making it the largest selection of piano music in the world.



Old School Player Piano Show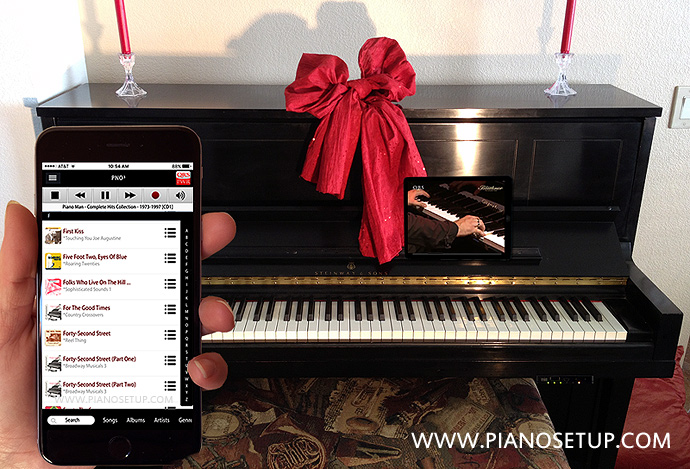 Today, the inside of a modern upright piano looks like this.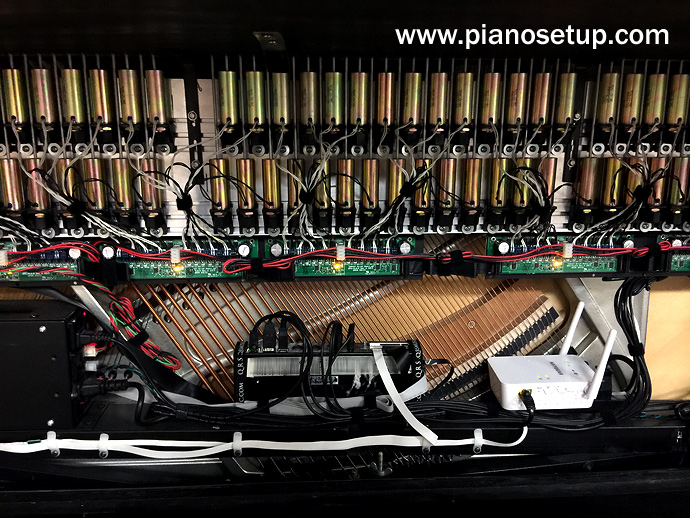 QRS PNOscan and PNOscan Pro record



The best record technologies sense the movement of the keys continuously. This means they see the entire movement of the key up and down. That data can then be used to set trigger points and assign controller values. Leaving the most accurate recording possible. The sensors also need to be non-evasive, in other words nothing effects the touch of the key, there is no mechanical link to cause potential noise or breakage. Adding weight to the key is a way to add sensors but they modify the touch of the action and action repairs become a problem. There are several types of recording technologies currently used are hall effect, flag, tft, optic - flag being the most popular and cheapest is used by the Japanese and some Korean knock offs of an early Gulbransen strip. TFT has a mechanical element to it and has been shown to be inaccurate. The only real solution is an optical sensor - but even these have issues unless you are able to filter out the noise from lights, smoke, radios and adjoining sensors. QRS's patents speak to this capability - without it the setup of an optic sensor is much too delicate a procedure and prone to hot notes, false triggers and erroneous events. PNOscan is by far the best product ever produced for recording a performance on an acoustic piano. Recently long distance learning has been pushed. Off the shelf products accessories make it happen. These products are available to QRS. QRS's systems are compatible if this is the direction you want to go.

PNOscanTM MIDI record strip is designed to be a valuable high-performance solution for discerning musicians and composers yet is reasonably priced enough and practical for everyday use by piano students, music teachers or anyone who wants to save their piano performances or recitals. Recordings can be output as standard MIDI files or on the QRS PNOmation® player piano system for more dynamic playback.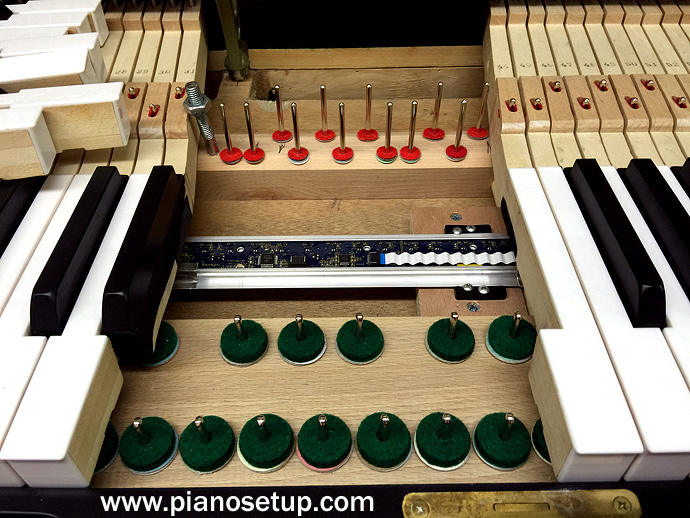 QRS MUSIC LIBRARY



QRS has the largest and most famous player piano music library in the world.

- The Nostalgic Series

Fats Waller, J. Lawrence Cook, Liberace, George Gershwin, Emily Rose Shaffer, Rudy Martin, Frank Miline, Marian McPartland, Dick Watson, Hi Babit, Roger Williams, Victor Arden, Pete Wendling, Zez Confrey, Ferrante & Teicher, Max Kortlander, Phil Ohman, Scott Joplin, Eddie Duchin, Carmen Cavallero, Art Tatum, Jelly Roll Morton, Floyd Cramer, Fats Domino, Peter duchin, William Bolcom, Eubie Blake, Jo Ann Castle, Charles Strouse, George Shearing, Erroll Garner, James P Johnson, Max Morath, Peter Nero, Brian A Williams, Bob Berkman...

- The Performance Series

George Gershwin, Sergei Rachmaninoff, Josef Lhevinne, Mike Jones, Emily rose Shaffer, Michael T Jones, Robert Redd, Jan Vayne, Joe Augustine, Ken kaufman, Valerie Tryon, Charles Czarnecki, Cecil La fontaine, Gunther Danziger, Hugo van Neck, Mingshan Kong, Christopher T. Sierzchula, , Hofmann, Horowitz, Percy Bigham, Prokofiev, Leif Hanisdal, Robert Finley, Christopher Bolton, Barnabas Fekete, Thomas Wakefield, John Nauman, Jim Beishline, Dave Bourne, Dai Buell, Lora Danziger, Artur Schnabel, Frederick Lamond, Mischa Levitsky, Max Pauer, Olga Samarof, Alfred Reisenauer, Elly Ney, Miecyslaw Munz, Harold Bauer, Wilhelm Backhaus, Moriz Rosenthal, Igor Stravinski, Ernst von Bohnanyi, Wilhelm Backhauf, Vladimir de Pachmann, Walter Gieseking, Larry Kass, Ivan Docenko, Charles Cooper, Felix Arndt, Aurelio Giorni, Robert Armbruster, Fanny Weiland, Eleanore Shaw, Marguerit Bolazy, Fritz Kreizler, Bob Geresti, Russell Messina, Marcos Lizama, Timothy O'Neill, Joe Brancato, Martijn Schok, Bob Berkman, Stanton Lanier, Willie Simmonds...

- The Tribute Series

Norah Jones, Jim Brickman, Elton John, Billy Joel, Lang Lang, Cole Porter, Frank Sinatra, Oscar Peterson, Johnny Mathis, Beatles, Barry Manilow, Dave Grusin, Newell Oler...




Song: I Feel Lucky - Country Love - Lisa Webb



- The Concert Series

Joe Augustine, Judy Carmichael, Lisa Webb, Jim Martinez, Claudia Hoca, Pat & Mike Junkroski, Excell Players, , Mingshan Kong, Thomas Wakefield, John Nauman, Suzanne Kinton, Sunshine Quartet, London Philharmonic, Lobo Rangers, John Little, Jim Ehinger, Jerry Stawski, Michael Civisca & Michael T Jones, Luigi Babrizio and His Orchestra, Joe Augustine, Guerry Boger, Andrea Passario, Sam Bozeman, Pierre Hudson Duo, Ed Vodicka Trio, Sal Andolina, Joel Benefiel, Marley North, Josephine Beavers, Sharon Jones, Dennis Eiland, Barnabas Fekete...

- The SyncAlong Series

Over 160 and growing the largest SyncAlong library in the business:

Elvis, Alicia Keys, John Legend, Sarah McLachlan, Taylor Swift, Neil Sedaka, Seal Soul, Glenn Miller, Abba, Amy Winehouse, Beatles, Ray Charles, Michael Bolton, Beach Boys, Johnny Cash, Josh Groban, Tchaikovsky, Garth Brooks, Priests, John Denver, Patsy Cline, toby Kieth, Ton Bennett, Willie Nelson, Jim Brickman, Kenny G, George Strait, Cole Porter, Shania Twain, Sinatra, Rod Stewart, Elton John, Billy Joel, Jimmy Buffett, Charles Aznavour, Andreal Bocelli, Streisand, Enya, Il divo, Dean Martin, John Tesh, Robbie Williams, Chris Botti, Michael Buble, Ken Burns Jazz, Nat King Cole, Bobby Darin, Ella Fitzgerald, Diana Krall, Misc. Soundtracks, Hannah Montana, Mariah Carey, Beyonce, Coldplay, Celine Dion...

Install it today or upgrade your existing player piano system!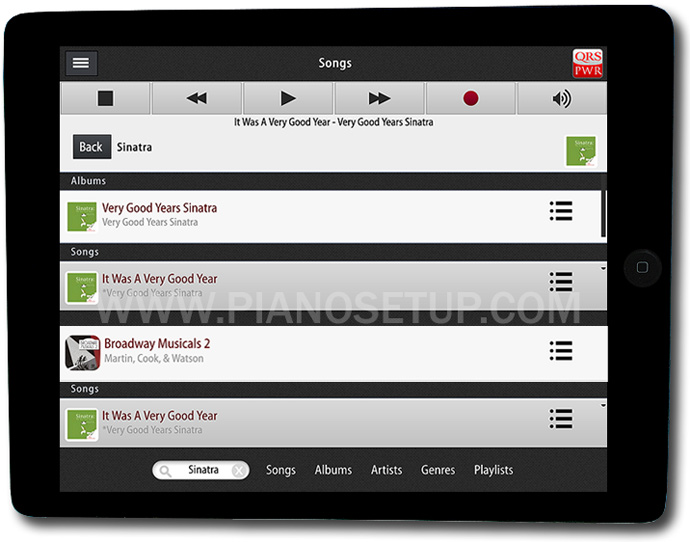 PLAYER PIANO SYSTEM UPGRADE



Do you have a piano with player system and wish to upgrade to QRS PNO3?
We can upgrade the following systems:
QRS Pianomation, PianoDisc, DiskLavier, Concert Master.

QRS Pianomation3 Upgrade - Wi-Fi Enabled. Price - $2495.00 (Installation Included! )




* CERTIFIED QRS PIANOMATION TECHNICIAN




I'm happy to provide you with more information, including costs and installatoin information.

Free Presentation.

References available upon request.

please call: (720)-329-7048




Cash, Checks, Credit Cards and PayPal accepted!


Tags: pianomation 3, player piano, self playing piano, yamaha disklavier, player piano system, piano player system, player piano system installation, player piano upgrade, QRS player piano, QRS player, player piano installation, QRS piano player, QRS player system, pianomation III.